Emily Is Away Too Wiki
Edit
This wiki is dedicated to the sequel game of the indie smash hit "Emily Is Away", "Emily Is Away Too"! Please feel free to contribute within this wiki and be warned, SPOILERS ALERT!
About The Game
Edit
New Emily, new choices.
Emily is away too is the spiritual successor to the critically acclaimed original. create your screenname, customize your profile and choose your story.
-Emily Is Away Too Official Site
7/10 Destructoid 9/10 Gamegrin 10/10 Steam
Emily Is Away Too is an interactive story built within a 90's-style instant messenger.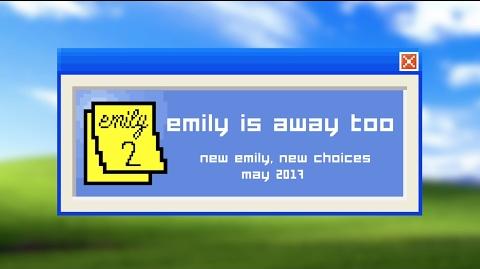 ---
Please feel free to hit that edit button to contribute to this wiki!
Please follow @taeyucks on tumblr for any questions on the game!